Here at Team Building Denver we are compiling a list of the best corporate team building activities in Denver, Colorado, plus corporate event ideas, company outings, team outings and more.
Team building has been shown to have demonstrable effects on communication, problem solving, innovation, employee satisfaction, and job loyalty. If your competitors are team building regularly, can your company afford not to be?
If the thought of team building conjures up images of shrill camp counselors and trust falls, then let us change your mind. We've gone through Denver's top team building companies to bring you this list of the best corporate team building activities and corporate event ideas in Denver CO. The businesses below are the best of the best when it comes to facilitating your next team outing and providing fun activities for employees.
Let's get to it! Below is our list of the best team building activities in Denver, plus, team outings, corporate event ideas, office holiday parties, and team bonding ideas in Denver, Boulder, Lakewood, Aurora, Littleton, Westminster, and Englewood.
Table of Contents
The Best Team Building Activities in Denver
The Mile High City is home to some great team building companies, but our mission at Team Building Denver isn't just to bring you a list of team building companies. We want to bring you the best team building activities we can find, and that starts with this short list. To come up with the top corporate events in Denver, we analyzed several factors: fun, creativity, team building impact (think improvement to communication, problem solving, critical thinking, etc.), and pricing. With that in mind, we landed at the best team building activity in Denver: The Great Guac Off™! Check out this fun guacamole making competition below.
1. The Great Guac Off™
Are you ready for a team building experience that's a little Amazing Race, a little Iron Chef, and a lot of unexpected fun? That's exactly what you'll get with The Great Guac Off™ (TGGO), a guacamole making competition that combines having a damn good time with your company's team building goals. TGGO is as unique as corporate team building activities can be, and has all the key ingredients that promote ultimate team bonding: competition, collaboration, booze (if you want it), and delicious avocados. Your team will play games, compete in challenges, and see who can create the office's best guac. Turn it into a full-scale corporate event with catering and drinks. TGGO will come to you, or you can choose to host your team building event at TGGO's local Denver offices.
2. Team Building Hero
Team Building Hero comes in second on our list of the best team building activities in Denver, and that's largely because of the unique services Team Building Hero can provide. Team Building Hero has a variety of different fun team events in Denver, like scavenger hunts, museum tours, storytelling workshops, food competitions, and company holiday parties. Here's what sets Team Building Hero apart: the company aims to be your annual provider of team outings; with that in mind, Team Building Hero is able to get to know your company on a level most other team building providers won't. Your dedicated sales rep and team building facilitators will be able to tailor each team outing to your company's individual needs with insights about your team and company that other companies simply won't have.
Unusual Team Building Activities in Denver
Our list of unusual team building activities in Denver is for the company that's done all the traditional team building events (escape rooms, scavenger hunts, etc.) and wants to mix things up a little bit. From driving exotic cars to camping overnight to crowning an office gingerbread champ, we're confident there's something on this list that your team hasn't done before.
3. Gingerbread Wars
Gingerbread Wars brings the ultimate holiday showdown to your office. Your team will enjoy holiday-themed trivia and games before battling it out in an epic gingerbread house making competition. Gingerbread Wars is a great way to blend your next team building event with your company holiday party; the elements of competition, collaboration, and creativity all combine to bring a powerful team building impact to a fun company party. Gingerbread Wars only accepts bookings from October through December, and space is limited, so book early. We love Gingerbread Wars for its innovative approach to team building and reasonable pricing.
4. Oxotic Supercar Driving Experience
Get the blood and adrenaline pumping with Oxotic's supercar driving experience. Your team members can hop behind the wheel of a dream exotic car (think Lamborghini, McClaren, Ferrari, and Porsche) and cruise through the stunning Rocky Mountains. Having a hard time picturing what a corporate event might look like surrounded by lavish luxury sports cars? Oxotic's staff will greet your group with an orientation to the cars. No special driving skills are required, as all cars are automatic transmission, but all drivers will need to show a valid license. Your guests will be placed in their cars, then follow a lead vehicle through the scenic route. Once the drive is complete, your group can come back together over appetizers and drinks to promote team bonding after a shared experience.
5. Under Canvas
Under Canvas offers team building retreats reimagined. Think sleep away camp but for your company — and with a glamorous twist. Under Canvas will treat your group to an evening of luxurious camping. The self-described safari-inspired resort tent company will bring their fancy digs to the camping spot of your choosing. Each tent comes complete with up to four twin beds, bedding, flooring, lighting, rugs, and tables. You can even have more tents set up for lounge space so your group can gather together before treating to their personal spaces for the evening. It's the ultimate set up for an overnight team building retreat. You'll achieve top team bonding during this company event.
6. Host A Client/Employee Appreciation Day
Speaking of great options for hosting your corporate clients, have you considered having a giant outdoor (weather permitting, of course) party to thank your clients, employees, and vendors? There are so many people out there who make your company what it is; why not treat them to an afternoon of games, food, and networking? Invite your clients, invite your employees and their families, and invite your vendors to a park for a BBQ where connections can be made and everyone will get an opportunity to relax and enjoy each other's company. Your clients and vendors will be grateful for the chance to make new connections, while your employees will enjoy family time outside the office. It's a win-win for everyone! Kick it up a notch and hire facilitators for the afternoon to ensure maximum team bonding and fun. (We like The Great Guac Off's facilitators for this!)
7. Take A Day's Staycation
Staycations are a popular trend for vacations – why not take advantage of Denver's natural beauty and reputation as a vacation destination to treat your team to a day of rest and relaxation at a local resort? Choose a spot with the amenities your team members will most enjoy (maybe some beautiful pools, an in-house spa, tennis, or a lake with boat rentals) and coordinate with the hotel for your team to enjoy a day out of the office on the grounds. Your team members won't feel like they're actively team building, yet they'll relax and come together and bond over this shared experience the company provided. This company event will have your team members feeling extra appreciated and rejuvenated when they return to the office! Earn extra bonus points and allow your coworkers to invite a guest.
8. Head to a game
Denver is home to tons of sports teams, so, depending on the season, grab your group and reserve tickets to check out one of the local teams! Heading to the game is unique as far as company outing ideas go, but it has the potential to have a big impact. Whether it's the Broncos, Rockies, Nuggets, or Avalanche, your options include reserving a chunk of seats in the stadium through group sales or perhaps even renting out a suite or two for a more high-end feel for your group. We also recommend coming together as a team before the game to tailgate in the parking lot and truly take your team bonding to new heights.
Fun Team Building Activities in Denver
In our view, team building has to be fun for it to work, and that's why fun team building activities in Denver gets its own segment in our resource. These team building activities all have one thing in common: your team will have a great time doing it! Try your hand at archery, escape rooms, or solving a murder mystery.
9. Denver Escape Room
Escape rooms are definitely having a moment right now, so why not seize the momentum and lock your coworkers in a room together during your next team outing? Denver Escape Room offers three different levels of team building packages, ranging in length from two-and-a-half to six hours. Starting with the four-hour package, Denver Escape Room includes a DiSC workshop and personalized report for your team members about their behaviors under the DiSC theory. DiSC is a behavioral assessment that measures how people naturally behave, problem solve, and communicate. Your group will have the opportunity to share their DiSC reports with their team members so each member can better understand each other and improve relations back at the office. That's an awesome outcome for any corporate team building activities.
10. Archery Games Denver
It's like dodgeball but with foam arrows. At Archery Games Denver, two teams will come to the arena to battle it out in the ultimate corporate event. Archery Games Denver has formulated their foam-tipped arrows not to leave marks on skin, and gameplay requires masks at all times to keep your eyes safe, eliminating any concerns about safety. Your team members will have a good time running through the arena in this revitalized game of dodgeball. Employees will learn new skills, enjoy friendly competition, and participate in a unique team building activity that will bring the group together over a shared team bonding experience.
11. CBST Adventures
CBST Adventures takes the good part of traditional team building retreats and injects some fun to create a team building adventure your team will enjoy. Depending on the season, CBST Adventures offers summer/warm weather team building and winter/cold weather team building in Denver. Think Winter Olympics or the Amazing Race come to life in Denver! If outdoor team building isn't quite right for your group, then CBST Adventures also has a number of indoor team outing options that will still provide your team with a good time and the benefits of an afternoon spent team building with creative challenges and a chance to work on problem solving and innovation skills.
12. Super Holiday Party ☃️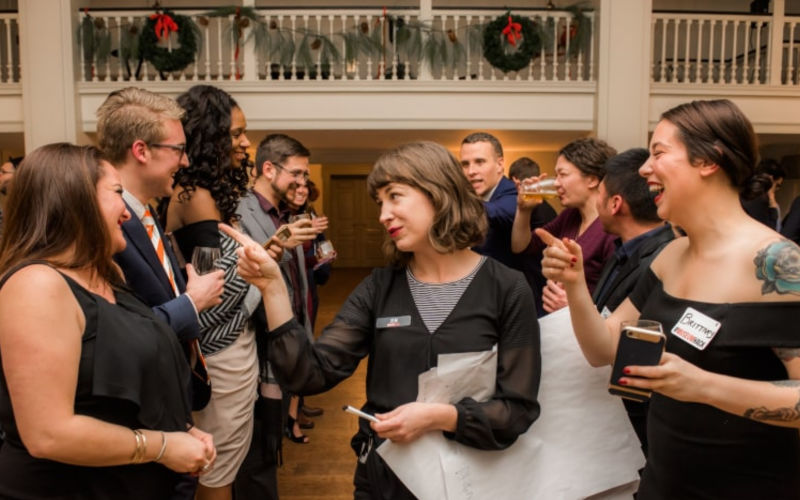 Are you feeling festive yet? If not, then it's time to call Super Holiday Party! (If yes, then we bet you're already on the phone now). Super Holiday Party is a supercharged event to celebrate the seasons with your coworkers. You'll enjoy mini challenges, games, and festivities. Crown an office holiday champ, enjoy upgraded catering, and BYOB to make this the holliest, jolliest company office party your team has ever seen. While Super Holiday Party's corporate event planners are ready year-round, reservations are only accepted from October to December.
13. Centennial Tours
Centennial Tours will help you see the Denver area in unexpected ways. With Centennial Tours, it's easy to plan fun corporate events for your team that employees may not be expecting. Centennial Tours offers a variety of different — you guessed it! — team building tours around the Denver area, including a craft beer and comedy experience, a history and whiskey tour, a craft distillery tour, and a liquor before beer tour. If your group is the type to cut loose and enjoy a drink or three, then Centennial Tours could be the perfect team event for your company. The company also offers bus rentals if you need local transportation around the Denver area to take your team building event to the next level.
14. Dave and Buster's
Take your team building planning effort down a few notches and kick up the ease factor with an afternoon of team bonding at your local Dave and Buster's. Dave and Buster's offers a variety of games for your colleagues to enjoy, including traditional arcade games like Pacman or Dance Dance Revolution, pool, and bowling. Dave and Buster's also has a full-service kitchen with a complete menu and a bar, allowing you to customize as much or as little as you want for your team outing. You could even go a step further and work with a staff member to make your corporate event a little bit more memorable. Check out your local spot's weekday specials to see if you can take advantage of planning your group activity on a workday.
15. The Wild Game Entertainment Experience
The Wild Game offers a fun space for corporte team building activities in Denver and Evergreen. Think pool, bowling, and arcade games centered around a rented semi-private space solely for your group. Your team can enjoy unlimited games of bowling or pool, play as many arcade games as they choose, and enjoy a catered stationed dinner and adult beverages. The Wild Game also has virtual reality gaming to wow your coworkers! A corporate event with The Wild Game is a relaxing, fun evening for your team without much planning for you — and we think that's a win-win as far as team outings go.
16. The Big Quiz Game
Trivia is a fun way to bring your team together and with The Big Quiz Game, you don't have to worry about coming up with questions that are tricky enough to make it challenging but simple enough not to discourage your participants. The Big Quiz Game is a mobile live trivia experience that will travel to the location of your choice, host a trivia game for your participants, and craft personalized content for the contest. The Big Quiz Game is a fun, funny team building event that can be customized to your company's individual team building needs. Be warned that a minimum of 14-day advance notice is required if you want the show to travel to your location.
17. The Murder Mystery Company
We've all heard of murder mystery dinners, but how many of us have actually participated in one? Even if you have, then The Murder Mystery Company promises a fun, interactive good time unlike what you might expect from a traditional murder mystery dinner. Bring your team together to solve the crime as they work together to figure out how the various clues fit into the puzzle. Professional actors will lead the humorous corporate event; your team members are part of the show, with some working as suspects and others as detectives. The Murder Mystery Company can bring the corporate event on the road to the location of your choice.
18. Topgolf
It's time to break out the putter and hit the links at Topgolf at your next team outing. Practice your swing or practice your aim and come together over the driving range with Topgolf's all-inclusive packages for corporate activities. Your team will enjoy time to golf, eat food, and drink beverages. You'll even have a staff member dedicated to your group to ensure you have everything you need for a relaxing afternoon enjoying the beautiful Denver weather and scenery. All-inclusive packages with corporate event spaces for rent start at $44 per person. Topgolf is also a great option not only for team building but for entertaining your corporate clients.
19. Colorado Team Building Events
Colorado Team Building Events offers a variety of fun activities for employees in the Denver area. Colorado Team Building Events has a number of different offerings, including team building events with a focus on charity, creativity, physicality, technology, bonding, social responsibility, conflict resolution, communication, and more. While Colorado Team Building Events offers corporate team building activities that are a bit more serious in nature, we still like their programming for its effectiveness. The company can work with you to design a program that will help address any issue your office might be experiencing, including communication, innovation, or personality clashes.
20. Warrior Challenge Arena
You've probably seen an episode or two of American Ninja Warrior and thought to yourself that it would be fun to try out some obstacles or ninja training yourself. Now you can with corporate team building activities from Warrior Challenge Arena. With an emphasis on team bonding, Warrior Challenge Arena offers one, two, and three-hour team building events with physical challenges that are focused on bringing your team together and highlighting the importance of strong communication, working together, and innovation. It's all about long-term results and performance flow when you host team outings at the Warrior Challenge Arena.
21. See a standup comedy show
Laughter is the best medicine for good reason, and we firmly believe that teams who laugh together, work well together and ultimately stay together. Denver is home to plenty of good comedy clubs; reserve a night at a convenient location for your team to come together after work and enjoy some good old fashioned comedy together. Many places also offer a bar and food, so find a full-service location that can really make this a full night out on the town together that will impress your coworkers and have them recounting the best jokes at the water cooler the next morning. A comedy show is a great, low-effort team outing.
22. Learn standup comedy together!
Enjoy a night at a comedy club, then follow it up at the office with improv training! Improv has been shown to have numerous benefits for improving skills you typically want your team members to display at the office. Improv is wonderful for flexibility, quick thinking, problem solving, innovation, adapting, communication, and creativity. Try booking a class with the facilitators at Voodoo Comedy, who has professionally trained performers with real world experience to tackle your top team building goals at each corporate event.
23. Unser Karting & Events
Unser Karting & Events offers fun group activities for adults — it's go-kart racing, after all! Your team members will bond over a burst of adrenaline as they zip around the indoor racing track. Your group has the option to choose its desired room rental for catering or even on-site meetings in between laps around the track. Unser offers dedicated staff members to take care of all of your team building needs. Unser's team building is a great option for fun corporate events that can be both productive for business (think hosting a big meeting here) and team bonding.
24. Denver Botanic Gardens
Visiting the Denver Botanic Gardens is one of the best corporate team building activities that might not immediately come to mind when you're thinking about company outing ideas. The Denver Botanic Gardens are a beautiful spot with plenty for the entire team to explore. Weather permitting, it's a simple to plan team building adventure with corporate events and team building activities that are already put together by the Gardens. Choose a show, exhibit, or book a tour of the grounds so your team can come together and enjoy a beautiful, natural part of the city employees may not get an opportunity to explore as often as they'd like.
Team Building Scavenger Hunts in Denver
Think about doing team building scavenger hunts when your team hosts its next corporate event in Denver. Scavenger hunts are a good option, as they combine fun, collaboration, communication, and competition into one team building activity that's easy to facilitate. Choose from the companies below who offer team building scavenger hunts in Denver.
25. ScavBoss
Alright, so we know there's only one company listed here for team building scavenger hunts in Denver, but we love ScavBoss that much. The experts over at ScavBoss have designed three major categories for product offerings: 1) you can sign up for ScavBoss' normal team building scavenger hunt in Denver; 2) have a custom scavenger hunt of your office or a particular area in the city built specifically for your group, and 3) book the ScavBoss Impossible Hunt, a scavenger hunt designed to be impossible to solve. Why would you do this? The Impossible Hunt can give you unique insights into how your team members perform in challenging circumstances; the debrief after is used to talk about lessons learned and how it can be applied back at the office.
Denver Team Building Activities With Food
Just about everyone likes a good meal, so why not win your coworkers over with team building activities with food involved? From making (and eating!) homemade guacamole to private food tours to learning how to make pizza, there are several good options to include a meal with your next corporate event in Denver.
26. The Great Guac Off™
Are you ready for a team building experience that's a little Amazing Race, a little Iron Chef, and a lot of unexpected fun? That's exactly what you'll get with The Great Guac Off™ (TGGO), a guacamole making competition that combines having a damn good time with your company's team building goals. TGGO is as unique as corporate team building activities can be, and has all the key ingredients that promote ultimate team bonding: competition, collaboration, booze (if you want it), and delicious avocados. Your team will play games, compete in challenges, and see who can create the office's best guac. Turn it into a full-scale event with catering and drinks. TGGO will come to you, or you can choose to host the event in TGGO's local Denver offices.
27. Book A Private Food Tour
Food is a fast way to many people's hearts; we imagine your coworkers are no different, so why not treat them to a unique dining experience and team outing in Denver? Delicious Denver Food Tours offers private and corporate food tours exploring the heart of the city's wonderful food scene. With available times that can accommodate most company schedules and tours that can include any dietary restriction, Delicious Denver Food Tours will provide a great team bonding experience for your group. You'll visit some of the city's best restaurants and eateries, learn the history of Denver's food scene, and decide whether you'd like to include drinking pairings with your food stops at your next corporate event.
28. Lucky Pie
Who doesn't love an afternoon out of the office that involves pizza? At Lucky Pie's Denver LoDo location, you can combine a fun team outing with cheesy delicious goodness. Lucky Pie Pizza will host a fun pizza-making competition. Guests will craft their own pizzas after learning how to toss and stretch dough like a pro. The pizzas will all be fired to perfection before being presented to the judges for scoring. Winners will be crowned, beer will be had, and bellies will be full as the group heads back to the office after this fun corporate event. Pricing starts at $86 per person and groups up to 49 can be accommodated. The entire event lasts for two-and-a-half hours.
Team building is important. Choosing the right corporate team building activities in Denver is key.
Here at Team Building Denver we believe that while team building is a necessity for every business, not every company on our list is going to work for your business. Team building isn't one size fits all; what works for your competitor may not work for you. Picking the right activity is about identifying your team's specific needs (a fun afternoon out of the office, a serious professional workshop to tackle tough communication issues, a massive client/employee appreciation day) and finding the facilitator best equipped to tackle them.
Not sure which company above might be the best fit for your group? Get in touch! We'd love to talk more about your company's team building needs and help you find the best company team building activities in Denver for your individual requirements.
Team Building Denver: Frequently Asked Questions
What is the best team building activity in Denver?
Denver's top team building activity is The Great Guac Off and its innovative guacamole making competition! Complete with challenges and trivia, this team building activity is reasonably priced, effective, and fun.
How often should we book team building events?
To achieve maximum impact, we recommend holding company team building activities at least once per quarter.
Why should I hire a company to lead team building events?
Effective team building doesn't necessarily mean you have to hire a pro, but we'd recommend it. The team building companies on our list are all experts in maximizing engagement and boosting key skills like communication, collaboration, and problem solving.